Black Coffee
Nancy Coletti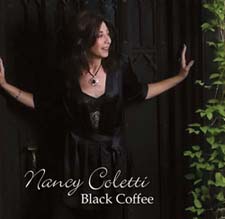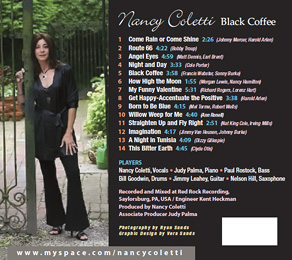 1. Come Rain or Come Shine
2:25
2. (Get Your Kicks On) Route 66
4:22
3. Angel Eyes
4:59
4. Night and Day
3:33
5. Black Coffee
3:59
6. How High the Moon
1:54
7. My Funny Valentine
5:31
8. Get Happy-Ac-cent-tchu-ate The Positive
3:36
9. Born to Be Blue
4:14
10. Willow Weep for Me
4:40
11. Straighten Up and Fly Right
2:51
12. Imagination 4:17
13. A Night in Tunisia
4:08
14. This Bitter Earth
4:44
Album Notes
Nancy Coletti's passion for Jazz and Blues is clearly evident on her debut CD Black Coffee. Her rich, pure approach to standards drawn from The Great American Songbook is manifested in her arrangements of Cole Porter's "Night and Day", Jimmy Van Heusen and Johnny Burke's "Imagination" and in Nat King Cole's "Straighten Up and Fly Right". Her interpretation of Harold Arlen and Johnny Mercer's "Come Rain or Come Shine" is filled with energy as an opening track. Backed by a three piece rhythm section featuring Judy Palma on piano, Paul Rostock on bass, and Bill Goodwin on drums, Nancy's signature scat on "Route 66", "Angel Eyes", and "How High the Moon" is proof of her creative ability and improvisational skill as a solo jazz vocalist. Taking on blues standards "Willow Weep for Me" by Ann Ronell and Mel Torme's "Born to Be Blue" with guitarist Jimmy Leahey gives these arrangements soul and depth in duo form. Her poignant and atmospheric singing on "My Funny Valentine" sets up this classic standard leaving plenty of room for saxophonist Nelson Hill to solo and soar through this arrangement. With her flawless pitch and sultry Jazz vocal choosing Sonny Burke and Francis Webster's "Black Coffee" as the title song for this Cd demonstrates Nancy's enthusiasm for mixing Jazz and Blues. "After singing many different genres of music over the years, my heart and soul told me that it was time to revisit the music from the Great American Songbook. Those marvelous melodies, sublime lyrics and infectious rhythms have been the inspiration for all of the great jazz singers. As I recorded these classic songs from this seminal era of popular music, my love for this art form and my respect for it's richness and history swept me up in a kind of joyful magic carpet ride of inspiration and creativity. So kick off your shoes, sit back, have another cup of java and enjoy some of the sweetest, swinginest and simply irresistible tunes ever written".
Artist Biography
Nancy Coletti is one of the rare vocalists who can seamlessly cross over to many different musical genres. Her versatility has enabled her to perform as a soloist in such renowned venues as The Bitter End, The Duplex, and Don't Tell Mama in Manhattan, as well as the Stone Pony, The State Theatre of NJ in New Brunswick, Count Basie Theatre in Red Bank, as well as, Bethlehem Musikfest, the nations largest music festival of the arts, and legendary Jazz club Deer Head Inn, Delaware Water Gap, PA. As a seasoned studio musician, Nancy has had the honor and privilege of working with Tony Bennett and was credited as Assistant Musical Director to KidsAmerica children's choir on Tony Bennett's CD "The Playground". Her consummate performance can be heard throughout the score on the Lifetime Movie Channel film "Prayers for Bobby" and on the "Believe" soundtrack showcased at Sea World theme parks throughout the United States.
Nancy's ability to sing varied art forms is attributed to constant training based on solid classical technique. Some of her vocal influences include an array of artist: Ella Fitzgerald, Sarah Vaughan, Mel Torme, Nat King Cole, Etta James, Lena Horne, Natalie Cole, Tony Bennett, Aretha Franklin, Bonnie Raitt, Joni Mitchel, and Bobby Darin. Nancy states "of all the different genres of music I have recorded, The Great American Songbook has been a love of mine for quite some time. Writers, such as Cole Porter, Harold Arlen, Rodgers and Hart have always moved my spirit as if I were born in that time period. I have spent hours listening to recordings of all the great Jazz singers with open ears and heart never taking for granted what the writer's original intent was with these beautiful simple melodies yet sophisticated chord changes." As she continues to wow audiences of all kinds, Nancy's interpretation and signature Jazz style is a performance you don't want to miss.