0
The Official Website of Nancy Coletti
Calendar of Events 2014:


Villa Milagro Concert Series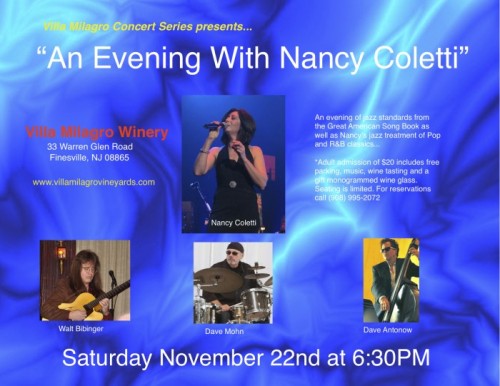 An evening of Jazz Standards from the Great American Songbook
as well as Nancy's jazz treatment of Pop and R&B classics.
Walt Bibinger on Guitar, Dave Antonow on Bass, and Dave Mohn on drums.
Adult admission $20 includes
free parking, music, wine tasting, and a gift monogrammed wine glass.
Seating is limited. For Reservations call (908)995-2072
Villa Milagro Winery
33 Warren Glen Road
Finesville, NJ 08865
www.villamilagrovineyards.com
Nancy Coletti Trio
Historic Hotel Bethlehem Tap Room
Thursday Evening 12/18/14
6:30 p.m. to 9:30 p.m.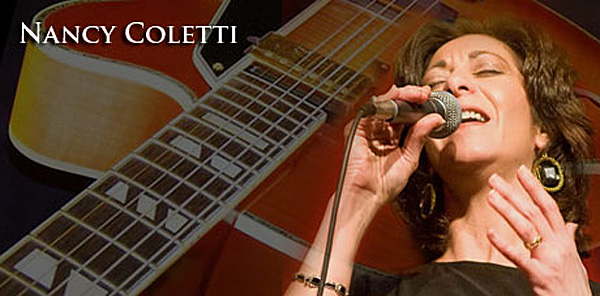 Join me in the Tap Room for Thursday night Jazz
Sit back and enjoy music from the Great American Songbook, and classic pop standards. Come hear Cole Porter, Gershwin, Rodgers and Hart, Diana Krall arrangements of Burt Barachach classics and more.
437 Main Street, Bethlehem PA 18018
(610) 625-5000
www.hotelbethlehem.com
The Deer Head Inn
with Walt Bibinger and Paul Rostock!
Friday Evening 12/19/14
7:00 pm to 11:00 pm
If you have not seen this Trio yet, come and check it out. We will be performing a great mix of tunes; standards, blues, and contemporary.
Deer Head Inn
5 Main St Delaware Water Gap, PA 18327
(570) 424-2000
www.deerheadinn.com