0
Official Website of Nancy Coletti
Event Calendar 2018
*
Historic Hotel Bethlehem Tap Room
Nancy Coletti Trio
March 22nd - Thursday 6:30 p.m. to 9:30 p.m.
vocalist Nancy Coletti, pianist Judy Palma,
bassist Tony Marino
Nancy is back in the Tap Room with Pennsylvania's finest for Thursday night Jazz!
Sit back and enjoy music from the Great American Songbook, and classic pop standards. Come hear Porter, Gershwin, Rodgers and Hart, Diana Krall arrangements of Burt Bacharach classics, movie music and more!
Hotel Bethlehem
437 Main Street, Bethlehem PA 18018
(610) 625-5000
www.hotelbethlehem.com
*
Nancy Coletti & Judy Palma
Dame Suite !!
Circa Restaurant ~ High Bridge NJ
April 5th - Thursday from 7 pm to 9 pm
Come and here Nancy with pianist Judy Palma perform a mix of jazz standards, blues, and pop classics at Circa.
Circa Retaurant
37 Main Street
High Bridge, NJ 08829
Reservations 908-638-5560
http://circa-restaurant.com/main/
*
Deer Head Inn
Nancy Coletti Trio
May 13th - Sunday 5:00 pm to 8:00 pm
Nancy with pianist Judy Palma
& Tony Marino on bass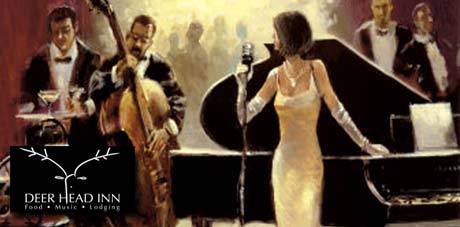 Come out to hear the NANCY COLETTI TRIO @ the nostalgic Deer Head Inn 5pm to 8pm with
pianist JUDY PALMA and bassist TONY MARINO. We will be performing an eclectic repertoire of music, jazz and blues standards, contemporary classics of Dione Warwick / Burt Bacharach/Hal David arrangements, Diana Krall, Carol King, Bonnie Raitte….all straight from the heart.
Deer Head Inn
5 Main St Delaware Water Gap, PA 18327
Reservations suggested (570) 424-2000
www.deerheadinn.com
*
Hunterdon County Library - Flemington NJ
Nancy Coletti Trio
May 23rd - Wednesday 7:00pm to 8:30 pm
Nancy with pianist Judy Palma & Matthew Parrish on bass
The Nancy Coletti Trio 
Consummate vocalist Nancy Coletti will be performing with pianist Judy Palma and upright bassist Matthew Parrish on Wednesday May 23rd, 7pm at Hunterdon County Library, Route 12.  The Nancy Coletti Trio will perform a diverse selection of  jazz and blues standards, classic hits of Burt Bacharach & Hal David, the Carpenters, Carol King, Diana Krall, movie music, and Great American Songbook standards featured on Nancy's CD Black Coffee. Nancy Coletti works it straight from the heart with a vocal interpretation and signature jazz style you do not want to miss!
Hunterdon County Library
314 State Route 12, Flemington NJ
908.788.1444
*
Historic Hotel Bethlehem Tap Room
Nancy Coletti Trio
May 24th - Thursday 6:30 p.m. to 9:30 p.m


Nancy is back in the Tap Room with Pennsylvania's finest for Thursday night Jazz!

Hotel Bethlehem
437 Main Street, Bethlehem PA 18018
(610) 625-5000
www.hotelbethlehem.com



*
Historic Hotel Bethlehem Tap Room
Nancy Coletti Quartet
June 21st - Thursday 6:30 p.m. to 9:30 p.m


Nancy is back in the Tap Room with Pennsylvania's finest for Thursday night Jazz!

Hotel Bethlehem
437 Main Street, Bethlehem PA 18018
(610) 625-5000
www.hotelbethlehem.com



*
SATURDAY JULY 21st PA JAZZ COLLECTIVE FESTIVAL
Festival performance line up details to come!!

* * * * * * * * * * * * * * * * * * * * * * * * * * * * * * * * * * * * * * * * * * * * * * *
Nancy Coletti & Walt Bibinger
Circa Restaurant ~ High Bridge NJ
August 9th - Thursday from 7 pm to 9 pm

Come and here Nancy with guitarist Walt Bibinger perform a mix of jazz standards, blues, and pop classics at Circa.

Circa Retaurant
37 Main Street
High Bridge, NJ 08829
Reservations 908-638-5560
http://circa-restaurant.com/main/