0
Official Website of Nancy Coletti
June Event Calendar
Historic Hotel Bethlehem Tap Room
Nancy Coletti Trio
Thursday Night Jazz 6/8/17
Nancy Coletti Trio
6:30 p.m. to 9:30 p.m.
vocalist Nancy Coletti, pianist Judy Palma,
bassist Tony Marino
Nancy is back in the Tap Room with Pennsylvania's finest for Thursday night Jazz!
Sit back and enjoy music from the Great American Songbook, and classic pop standards. Come hear Cole Porter, Gershwin, Rodgers and Hart,Nat King Cole, Diana Krall arrangements of Burt Barachach classics, movie music and more!
Hotel Bethlehem ~
437 Main Street, Bethlehem PA 18018
(610) 625-5000
www.hotelbethlehem.com
Villa Milagro Concert Series
Nancy and Walt Bibinger
Saturday 6/10/17
Concert begins at 7:00pm
doors open @ 6:00 for Wine tasting
Jazz Vocal stylist Nancy Coletti will present her rich pure approach to music from the Great American Songbook and featured standards from her CD "Black Coffee", as well as her soulful interpretation of Pop and R&B classics.
Adult admission $20 includes
free parking, music, wine tasting, and a gift monogrammed wine glass.
Seating is limited. Reservations are strongly recommended for this intimate performance.
call (908)995-2072
Villa Milagro Winery
33 Warren Glen Road
Finesville, NJ 08865
www.villamilagrovineyards.com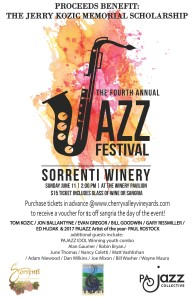 THE FOUTH ANNUAL JAZZ FESTIVAL
Cherry Valley Vineyards : Sorrenti Winery

SUNDAY JUNE 11th / 2PM / AT THE WINERY PAVILION
$15 Ticket Includes Glass of Wine or Sangria

SPONSORED BY THE PA JAZZ COLLECTIVE
Proceeds Benefit The Jerry Kozic Memorial Scholarship

130 Lower Cherry Valley Rd
Saylorsburg, PA 18353
(570) 992-2255